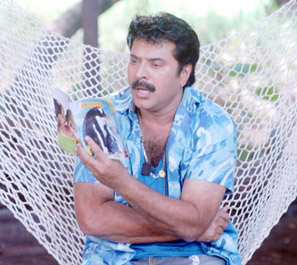 Thuruppu Gulan
Cast and Crew
Director : Johny Antony
Story :
Producer : Milan Jaleel
Music : Alex Paul
Lyrics : Kaithapram
Screenplay : Udaya Krishna & Siby K. Thomas
Thuruppu Gulan is a Malayalam comedy film released in the year 2006, which had Mammootty and Sneha in the lead roles. Others in the cast include Innocent, Jagathy Sreekumar, Suraj Venjaramoodu, Salim Kumar and Cochin Haneefa. The movie was a tremendous hit at the box office.
Mr. Menon (Devan), a multi-millionaire, buys considerable real estate and entrusts it to one of his trusted lieutenants, Sreedharan Unnithan (Kalashala Babu), to construct a 5-star hotel. He also buys a small plot and gives it to Kochuthoma (Innocent), Kunjumon's (Mammootty) father. Menon leaves for Singapore and Kunjumon is packed off to Calicut by his father, as he fears that his son's life might be in danger as he badly wounded one of the local goons who picked up a fight with Menon.
After a few years, Menon decides to return to his native land and get his daughter married off in a good way. But Sreedharan Unnithan and his sons, in an effort to foil his plans, have him framed in a cooked up case and imprisoned. His daughter, Lakshmi (Sneha) reaches Kerala to find a way to help her father. She meets up with the hero Gulaan Kunjumon. Whether he is able to help her in her mission or whether he has a mission of his own forms the rest of the story.