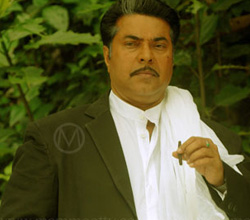 Paleri Manikyam
Cast and Crew
Director : Renjith
Story : T P Rajeevan
Producer : Subair / A V Anoop
Screenplay : Renjith
Starring : Shwetha Menon, Mythili, Siddique, Sreenivasan
Paleri Manikyam: Oru Pathirakolapathakathinte is a 2009 Malayalam language Indian crime drama film written and directed by Ranjith, starring Mammootty, Shwetha Menon and Mythili. It is based on a bestselling Malayalam novel of the same name by T. P. Rajeevan, which said the true story of the first recorded murder case in Kerala. Mammooty plays three characters in the film. Ranjith also introduced about thirty Malayalam stage artists through this film. The film tells the story of a private detective, who returns to his birthplace, a village called Paleri, to solve a murder mystery that occurred on the same night he was born.
The film won five Kerala State Film Awards including the Best Film Award. Mammootty won his fifth Kerala State Film Award for Best Actor for playing three roles Ahmed Haji, Haridas, and Khalid Ahmed in this movie. Shweta Menon also won her first Kerala State Film Award for Best Actress for this film.
The story revolves around the unnatural death of a young woman named Manikyam (Mythili) in Paleri, a small village in northern Kerala, in late 1950s. Although it was claimed by her in-laws that she died after she had a seizure, examination of the body revealed it to be a case of murder. The police charged three locals with the murder, only to be released by the court which described the prosecution's case as flawed. With no further investigation, the case had, since then, gone cold over the years, eventually acquiring the status of an unsolved mystery.
Around 52 years later, Haridas (Mammootty), a detective living in New Delhi, sets out on a journey to Paleri hoping to solve this mystery. Apparently, he was born in the same village on the same night when Manikyam was killed. He is joined by Sarayu (Gowri Munjal), a crime analyst.
Most of the clues and knowledge of Balan Nair (Siddique) and Keshavan (Sreenivasan) lead him to zero in on Ahmed Haji(Mammootty), a cruel feudal landlord who lived in Paleri during that period. It was obvious why his name did not figure in police reports from that era; he was so powerful and influential in Paleri at that time. Slowly, as things become clear, Haridas deduces the truth.