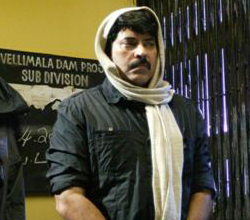 Jawan of Vellimala
Cast and Crew
Director : Anoop Kannan
Story :
Producer : Play House
Screenplay : James Albert
Starring : Mamta Mohandas, Sreenivasan, Asif Ali
Jawan of Vellimala is a Mammootty film. This is the first movie where Mammooty wearing the suit of a producer under his own banner Play House. Anoop Kannan, an associate to Lal jose, will be directing the film and this is his debut. James Albert is the script writer. Bijibal has scored the music for the lyrics of Anil Panachooran, SanthoshVarma and Venugopal. Satheesh Kurup is the cinematographer. Distribution of 'Jawan of Vellimala' will by Play House itself.
Mammootty is playing the lead role where Mamta Mohandas took up the task of a challenging character in this movie. Sreenivasan, Asif Ali, Sadique and Sunil Thrissur also play major roles in this movie.The story of Jawan of Vellimala revolves around a high-range village called Vellimala and the people living there. Gopi Krishan, the central character, who took voluntary retirement from the military services, reaches Vellimala as a laborer. Mamta Mohandas plays the role of a project officer at the Dam site and she also works for the development of the society. The story reveals the interesting incidents happening in the 'Vellimala' village