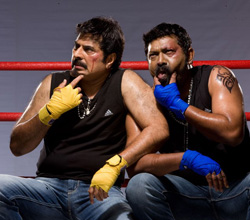 Cobra
Cast and Crew
Director : Lal
Story :
Producer : Anto Joseph
Music : Alex Paul isc
Screenplay : Lal
Cinematography : Venu
Starring : Lal,Kaniha,Padmapriya,Salimkumar,Lalu Alex
Cobra is a 2012 Malayalam film with Mammootty performing the leading role. The film is a comedy-action-thriller, directed by Lal, starring himself. The songs were composed by Alex Paul, and background score by Deepak Dev. The film was released on 12 April 2012 .The film consist of a series of talented performers in this movie including Kaniha as Ani, Padmapriya as Sherly, Lalu Alex as Samuel, Salim Kumar as Gopalan, Babu Antony as Isaac, Maniyanpilla Raju as Balan, Jagathy Sreekumar and many others.
Cobra tells the story of two brothers Raja (Mammootty) and Kari (Lal). Saleem kumar and Manian pillai raju play the roles of their security. Film tried to convey a message about the relationship that is beyond blood bond. Cobra lives only in places that start with Co. After Connaught Place, New Delhi, they shift to Kothamangalam. They are looking for brides for them with only one condition that they should be sisters. On this way they meet Samuel (Lalu Alex) and his two daughters. Kaniha and Padmapriya performed the role of Samuel's daughter. Then the film moves through varies funny incidents.