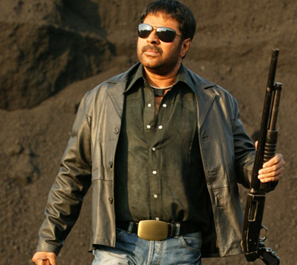 Big B
Cast and Crew
Director : Amal Neerad
Story : Amal Neerad
Producer : Shahul Hameed, Anto Joseph
Music : Alphonse
Lyrics : Jophi Tharakan, Santhosh Varma
Screenplay : Amal Neerad - Unni R.
Big B is a 2007 Malayalam action-thriller film co-written and directed by Amal Neerad, starring Mammootty in the title role. The cinematography was done by Samir Thahir, and the background score was composed by Gopi Sundar, with Alphons Joseph doing the songs. It is a remake of the American film Four Brothers with revised screenplay and outstanding action sequences.
The story begins with the cold-blooded murder of Mary John Kurishingal (Nafisa Ali), better known as Mary 'Teacher', a social activist who runs an orpahanage in Kochi. She has four foster sons, whom she adopted from the city's orphans and gave her surname 'John Kurishingal'. They arrive for her funeral from various places. The cynosure is on Bilal alias 'Big B' (Mammootty), the eldest and the most reactive of the four 'brothers', who was an infamous troublemaker during his time at Kochi. He was forced to flee the city after he got involved in a street fight that resulted in him stabbing another ruffian. This also led to his estrangement from Mary Teacher. Eddy (Manoj K Jayan) the second of the brothers, takes care of Mary and struggles to make the ends meet for his wife (Selena) and his two girls, as his small-time restaurant business is sagging. Murugan (Bala) is the happy-go-lucky fellow of the pack, and tours the country with his assignments as a stunt director in films. Bijo (Sumit Naval), a student, is the youngest of the brothers and very sentimental as a result of a troublesome childhood before he was adopted, is often at the receiving end of the overprotective nature of Bilal. Nevertheless, he is very attached to Bilal. The four brothers take it upon themselves to unearth the mystery behind their mother's murder. Bilal start meeting his old friends and contacts in the Kochi underworld to get information on the killers. Little by little, they piece the evidence and find out that the murder was committed by two professional 'hitmen' from Mumbai. The ACP Balaji Shakthivel (Pasupati) who is an upright cop, put in charge of investigations, tries his level best but cannot fetch any evidence to prove anything related. They soon find out that the murder was one of the many meticulously planned operations, aimed to check the teacher's intrusions into unlawful exporting of children from Kochi. As the Mayor (Ramesh Varma) and his henchman, an underworld don called Saiyuppu Tony (Sherveer Vakil) are involved, the brothers decide to take up arms to avenge their mother. How they accomplish their revenge forms the rest of the story.